(collaboration works made by Anna Bittersohl & Philipp Kummer)
---
36° | 2023 | installation view, exhibition "Glasshouse" | KISS Kunst im Schloß e.V. Untergröningen
Installation for two rooms.
room 1
Materal: tunnel built from painted foil, regional plants from a meadow, lamps, 2 fans, black tree

Sound: rustling and sizzling noise of the foil and the plants

room 2
Material: painted painter's fleece, roof battens, 2 projections (foggy landscape with trees, camera slightly moving by breath, looped), wooden footbridge (painted), bark mulch
Sound: wind, birds voice from time to time

---
Kiste und Tüte (ongoing projekts)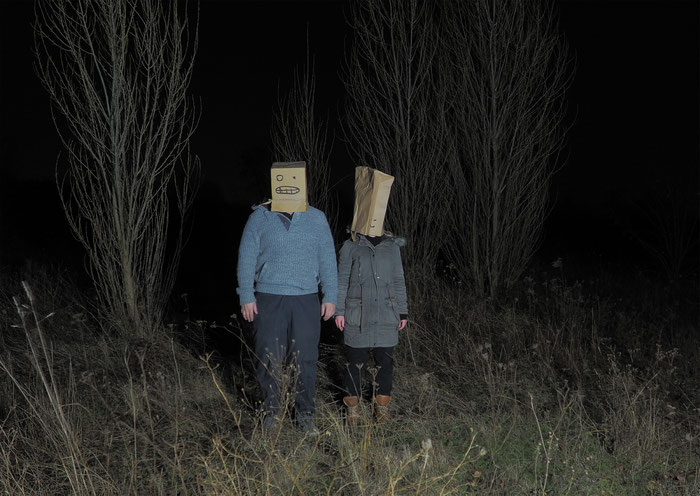 ---
Gespräche im Staubwald | 2022 | installation view, Frühjahrsrundgang Leipziger Baumwollspinnerei
Installation for a room or corner
Materials: wall paper, poster, fake wood linoleum, two chairs, clothes, two skulls, cupboard, glas lamp,  bottles with alcoholic drinks, filled ashtrail, cigarette paper, tobbaco, lighter, two glasses, stuffed weasel, black tree, cats toy
Sound: conversation between two people/ 57:35 min loop
One person is the interviewer. He is asking his guest questions. The guest is a wellknown artist, a passionate tomato grower, aworld champion snorkeler.
---
untitled | 2021 | 57,35 min
conversation between two people. Somewhere in the middle of the conversation the moving picture and the sound are slightly falling apart. The movement doesn't seem fit to the movement of the persons so well anymore.
---
wir sind Staub, wenn du uns lässt | 2019 | installation view, Big Art 4 | Zaanstad, Amsterdam
Installation for tent or dark room
Material: round about 40 motorised humming-birds, roof battens, part of a real tree, lamp, cables, sand
Sound: noise of the moving birds 
over the duration of the exhibition birds keep breaking from the construction, due to its poorly structure, and fall to the floor next to the tree
---
die Unendlichkeit der Dinge | 2018| installation view, Big Art 3 | Bijlmerbajes, Amsterdam
Island installation
Material: cardboard, sand, roof battens, a self built clapping figure (painted fabric, roof battens, 2 metal washers, rope, hat), painted tent (with fairy lights and figure head), a half tent (painted, reaching out of a wall), 3 constructed trees from real trees, wooden hand crank, fake flowers, rope, nests (papiermaché, sand), several motorized humming birds (flying around the nests)
Sound: noise of the hummingbids moving around the nests
The island may be entered to move the hand crank. When the hand crank gets cranked, the figure in the front if the installation clapps (very loud metal noise)